HEATSCOPE

®

STAND
Mobile standl solution for PURE + NEXT heaters
HEATSCOPE

®

STAND design stand system
cozy warmth on every spot | exclusively for PURE + NEXT heaters | extra mobile + totally safe
On some days you need a change – even if it is a short one. In this case you cannot stay at the same place on your terrace or in the garden over and over again. You start redecoration and rearranging all the things outdoors – as long as all things fit perfectly as you like it in the best way.
Perfect, if you own a heating solution then, which is as flexible as your thoughts and wishes for your spaces and your recreation areas …
HEATSCOPE® STAND was designed to heat up (almost) everybody outside – wherever you chill out. It was made to make you feel most comfortable.
The best and most stylish heater won't be useful, if you cannot take it with you to your new favourite place – because there you will need the heat.
This is possible now: with the STAND together with the design heater PURE. It takes two to replace the heater from time to time and bring it to the new place on your terrace or in the garden. Very simple, totally comfortable.
HEATSCOPE

®

STAND design stand system for PURE + NEXT
Mobile, flexible and applicable on every spot
Normally, HEATSCOPE® PURE design heaters and NEXT energy heaters are installed on walls or ceilings. However, in order to also be able to use the heaters in a flexible manner on terraces or in the garden, the HEATSCOPE® STAND design stand solution was developed (design: Bjørn Blisse).
With the help of the HEATSCOPE® STAND there is heat at any location in the garden or on the terrace in the most cosiest form.
You won't need an extra weather protection, because PURE or NEXT and STAND are all IP65 protected against hose water from every direction. Due to this you can install the PURE or NEXT together with the STAND on every spot outdoors – even when it's raining cats and dogs or in heavy snow.
The HEATSCOPE® STAND was exclusively designed and developed for the HEATSCOPE® model range PURE + NEXT. Unfortunately, it does not work with the VISION and SPOT heaters or with radiant heaters from other manufacturers.
SPECIFICATIONS:
Galvanised steel base in white or black
Head made of powder-coated stainless steel in black or white
Connection bar made from powder-coated aluminium in black or white
entirely weatherproof
Supplied with Schuko plug and ILME plug (on heater side)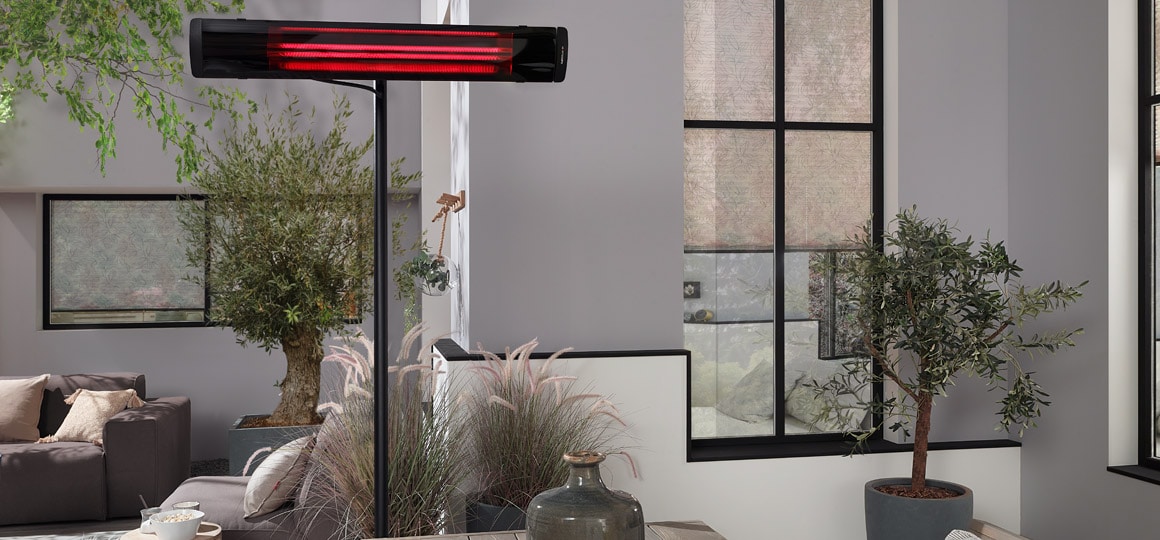 Alle HEATSCOPE

®

STAND models + specifications
Free standing pedestal solution